Bushy Sigsug SG Branch provides advanced technology security solutions that protect borders, citizens, critical infrastructure, personnel, and key assets. Proven in operation in demanding applications at local authorities, government entities and businesses all over the world, our integrated physical security solutions optimize manpower, minimize costs, increase safety and enhance situational awareness.
We understand the importance of comprehensive security management. Our network-based physical security solutions can be implemented at a single facility, across a campus, throughout an organization, or nationwide. Depending on your requirements, our total security solutions can include:
Access Control System
AOA Live Tracking System
IP Telephony System
Public Address System
Video and audio surveillance
Intrusion detection systems
Perimeter Intrusion & Detection System
Networks and communication platforms
IT Infrastructure
We back our solutions with full lifecycle support. From design and construction to installation and maintenance, our proven professionals concentrate on every aspect of the project to ensure that each solution delivers maximum efficiency and superior outcomes.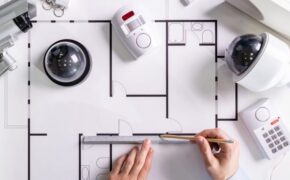 Each of our systems is cybersecure, integrating best practices to ensure a balance between security protection, performance, administration, and cost. Building on a secure IT infrastructure, we operate on the nation's most trusted networks and have completed the stringent system accreditation process.
In addition to our dedication to cybersecurity, Bushy is also on the forefront of technology innovation. We are continually seeking out new cutting-edge components to solve increasingly complex security challenges. From biometric authentication and identification to the latest access control systems, we help our customers take advantage of emerging technologies to increase protection, simplify operations and cut costs.
Full Lifecycle Support: Project management, Design, Engineering, Installation, Training, Maintenance
LOOKING FOR PROFESSIONAL SERVICES?
15 Changi Business Park, Singapore 486006
Make An Appointment Today With Our Online Form